Description
Designed to adapt popular mounts from various manufacturers. The new Bowers Group Versadapt Omega insert allows you to use the SilencerCo Bravo ASR mount, Dead Air KeyMo mount (Nomad/SiCo Omega), Q Plan-B (Omega), Griffin Armament Plan-A, and Area 419 Hellfire mounts on your Bowers Group Vers silencers. The Versadapt Omega insert will also work with any suppressor with 1.375×24 x 24 rear cap threads. When used in combination with the mounts mentioned above you can adapt your Bowers Group Vers series silencer to work with mounts from over 50 different silencers including the silencers listed below.
SilencerCo Omega 300
SilencerCo Hybrid
SilencerCo Hybrid 46
SilencerCo Harvester EVO
SilencerCo Harvester 338
SilencerCo Harvester BIG BORE
Energetic Armament Vox
Griffin Taper Mount Silencers
Dead Air Nomad
Dead Air Sandman Series
RMS2 Hopaii/Shadow
Q Quickie Fast-Attach Silencers
Any suppressor with 1.375×24 x 24 rear cap threads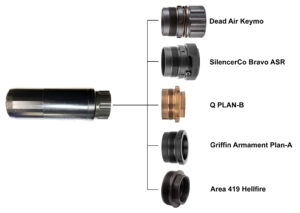 Simply add your Bowers Group Versadapt Omega insert into your Vers series silencer then attach the mount of your choice and use the existing muzzle devices that you already own. The Bowers Group Vers silencers now attach to muzzle devices from Griffin Armament, Dead Air, SilencerCo, KG Made, Q, and more.